---
The Avengers (VOD) - Apr 23, 2013
Director: Joss Whedon

Main Stars: Robert Downey Jr., Chris Evans, Mark Ruffalo, Jeremy Renner, Scarlett Johansson

Rating: 2 out 5

Every super hero known to the Marvel Universe gets together to open up a can of whoop-ass. That pretty much sums it up. I generally hate the never ending string of movies based on comic book characters. I did like Iron Man, mostly because of Robert Downey and I thought the first Spiderman was genuinely refreshing - but I haven't even bothered to see the third Batman. The story in this one, such as it is, involves Thor's buddy Loki coming to earth to generate a portal and let in an invasion of aliens to conquer the world. For me I had issues getting past the absurdity of the characters. On one hand you have the Hulk (Ruffalo) who is invincible and on the other hand you have Black Widow (Johansson) who while yummy in her tight leather getup, basically just fires pistols. The bad guy is genuinely riveting in some scenes with some pretty decent dialog, but then looks ridiculous in other scenes strutting about, less than imposing, and wearing a stupid helmet. Robert Downey owns the camera, but they did do a fairly good job at not making him the focus. I thought Mark Ruffalo was one of the few that actually acted in the film, but no one cares about that. They want to see lots of stuff blowing up and this CGI fest delivers. In fact, New York gets basically destroyed (yet somehow without a single citizen getting hurt). Fanboyz will eat it up, but I'd rather have the 143 minutes of my life spent watching this back.
Identity Thief (Theatre) - Mar 11, 2013
Director: Seth Gordon

Main Stars: Jason Bateman, Melissa McCarthy, Amanda Peet, Robert Patrick

Rating: 3 out 5

Things are looking up for Sandy Patterson (Bateman). Recently promoted to VP of a startup firm he looks forward to giving his loving wife and daughters the comfortable life they deserve. However things come crashing down around him when he's wanted for fraud in Florida - just one thing, he's never been to Florida. Occasionally I'll see a movie that I'm not overly looking forward to, but go mostly to appease the wife. And sometimes I'll actually end up liking the movie. Such is the case here. When taken as a whole, the film isn't overly special and drags a bit as it comes to it's predictable and contrived end. But for most of it I was highly entertained and laughed out loud several times. Essentially a road movie, the strength of the film comes from the dynamic between the two main characters. McCarthy is hilarious and physical comedy is obviously her strength. Bateman is equally effective as the prerequisite straight man. There's also a hilarious bit with the guy who plays Cameron on Modern Family. Some of the characters seem extraneous and just thrown in to add a touch of drama although it was nice seeing Robert Patrick as a grizzled bounty hunter. A somewhat typical comedy that elevates itself just a bit above average due to the efforts of the lead actors.
The Woman In Black (VOD) - Feb 18, 2013
Director: James Watkins

Main Stars: Daniel Radcliffe, Janet McTeer, Ciaran Hinds, Sophie Stuckey, Roger Allam

Rating: 3 out of 5

Life hasn't been kind to Arthur Kipps (Radcliffe). Having lost his wife he is grief stricken and barely managing to hang on to his job at a London law office. He loves his only son dearly but is forced to leave him behind when he is assigned to wrap up the affairs of a recently deceased widow at a faraway country mansion. Upon arriving at the local village he is shunned as an outsider who is apt to bring tragedy to them all. For some reason there's a plethora of horror movies being released out of season so I decided to join the fun and take one in. In a world full of gory slasher flicks a Victorian ghost story seems almost trite. But I thought it was a welcome break from the norm. Of course the big question on everyone's minds when this was released was whether Radcliffe could shed his association with Harry Potter. I thought he did a great job and didn't once think of him in that role. As for the story I thought it was decent although upon reflection nothing extraordinary. There were a couple times however that I actually got chills down my back - which with the exception of two other films never happens. So in that respect as a horror flick it succeeded. I just wish they had fleshed out the story more.
Looper (Blu-Ray) - Jan 26, 2013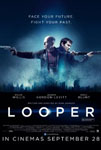 Director: Rian Johnson

Main Stars: Joseph Gordon-Levitt, Bruce Willis, Emily Blunt, Jeff Daniels, Piper Perabo

Rating: 4 out of 5

"Time travel has not yet been invented. But thirty years from now, it will have been." And thus begins Looper, a rare sci-fi gem that offers a fresh look at the time travel genre which has been done so many times before it. While it stars Willis, Gordon-Levitt who plays Willis in the past is the real star. I actually didn't recognize him at first and it was bugging me trying to figure out who he was. He gets Bruce's mannerisms and icy stare down pat. The story is a bit confusing at first but by the time you get a handle on it you're sucked into the movie. There are so many small details in this that show how much thought went into the script and story. And while the film takes place in the future it's a gritty near-future - no spaceships or laser guns to be found here. Without giving anything away, there's also a supernatural element which adds an interesting dimension to things. Think Inception meets Carrie. This is easily Willis' best role since 12 Monkeys which is ironic as that was another excellent time travel movie. I went into this not knowing much about it other than hearing good buzz when it was screened at the Toronto Film Festival. It was a pleasant surprise and I would rank it up there with my favourite sci-fi films. Highly recommended.
The Hobbit: An Unexpected Journey (Theatre) - Jan 13, 2013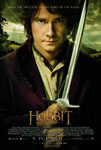 Director: Peter Jackson

Main Stars: Ian McKellen, Martin Freeman, Richard Armitage, Hugo Weaving, Cate Blanchett

Rating: 2 out of 5

When I first heard they were going to turn The Lord Of The Rings into a set of movies I rolled my eyes. These books along with The Hobbit were highly cherished by me growing up. There was no way a movie would even compare. But when they came out Jackson won me over and I loved them. So when I heard he was doing the same to The Hobbit I had a similar reaction. This time unfortunately, he lost his way. I saw the film in regular 2D as I didn't want the raging debate over the technology used in the 3D version to be a distraction. I also went in not having watched any trailers, or read anything about it as I didn't want to be biased in any way. First the good - I thought Martin Freeman was excellent as Bilbo. I also found the 'Riddle In the Dark' scene where Bilbo first meets Gollum and discovers the ring to be top notch. Easily the best part of the movie. Now the bad - I knew going in that this was going to be the first part of a trilogy. With the other two movies essentially being 'made up' by Jackson based on literally a few appendix notes Tolkien had made. So there were obvious parts that weren't in the book but thrown in to tie into the upcoming films. While I get it, I found it to be annoying. I was also worried about the tone of the movie. The Hobbit is after all a children's book. While there was some attempt to lighten the mood which succeeded in parts it also resulted in things constantly flipping back and forth from comedic to serious. It didn't work for me. Worse, the special effects reflected that disparity. In one scene we have the one Goblin bad guy looking all evil and menacing, and then in the next scene we have the other Goblin bad guy looking like something out of Labyrinth being puppeted by Jim Henson. It was a bizarre clash of styles. Then when the credits rolled I was extremely pissed off I just spent three hours watching only to get part way through what in reality is a short novel. They easily could have started things where it ended and covered everything else in a short pre-amble. Highly disappointing.